As part of the Unified Community Platform project, your wiki will be migrated to the new platform in the next few weeks. Read more here.
Marcelo Jimenez
Marcelo Jimenez
---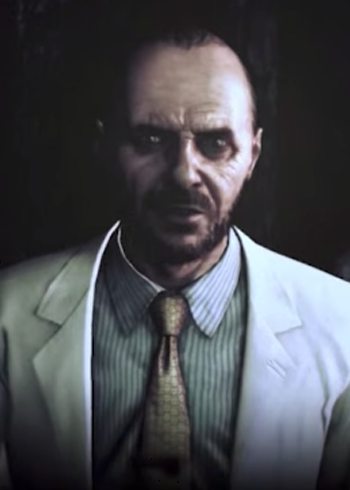 ---
| | |
| --- | --- |
| Status: | Deceased |
| English Voice: | |
| Japanese Voice: | |
Marcelo Jimenez is a side character in The Evil Within.
Summary
Marcelo Jimenez is the head of Beacon Mental Hospital. Having worked alongside Ruvik prior to the start of the game, he is instrumental in understanding Ruvik's plan inside STEM. He keeps as close a watch as possible on his patient Leslie Withers throughout the story, going so far as to attempt to use Leslie to exit the STEM system. Despite his vital knowledge and desire to escape STEM, Dr. Jimenez consistently avoids Sebastian, shrugging off both his questions and his help unless absolutely necessary. This is likely due to both Sebastian's status as an officer of the law and the surreptitious nature of Dr. Jimenez's involvement in the hospital, where he was a willing party to inhumane experiments carried out on the patients there. Despite his efforts, Dr. Jimenez does not survive STEM, and he is crushed by the Amalgam Alpha after both failing to exit STEM through Leslie and realizing Ruvik's motives. Marcelo Jimenez's brother and Leslie's former doctor, Valerio Jimenez, appears as a Haunted in Chapter 4. It is revealed through flashbacks that Dr. Jimenez and Ruben worked for MOBIUS.
Gallery